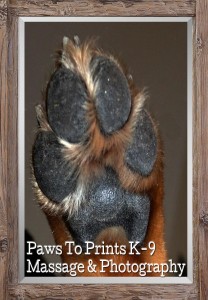 The animals in our lives are not just animals, they are members of the family and should be treated as such!
At Paws to Prints the mission is to promote happy, healthy pets whether it be through a therapeutic sports massage or capturing their true spirit on camera. 
I offer therapeutic sports massage for dogs and photography for all animals and families. I have been a photographer for 8 years and a pet lover for all of my life. My goal is to help animals and to preserve their spirit and beauty in portraits.
I am a Certified Canine Massage Therapist and also have my Pet First Aid.  Your pets are your family and as such I will treat them as if they are my own.  I will ensure that your animals are safe in all settings in massage or on shoots. Now offering aromatherapy!
My spare time includes working with Heaven Can Wait Animal Rescue Foundation, Alberta Spay & Neuter Task Force and fostering for AARCS.  Animals and animal welfare along with photography are my passions combined!